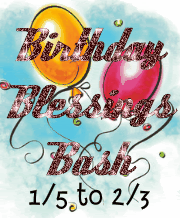 "Birthday Blessings Bash" begins in just 3 short days! Not sure what "Birthday Blessings Bash" is? You can read up on it
here!
This is one event that you are not going to want to miss!
Here are some things that you should know about this event:
Each giveaway will be taken via Rafflecopter (quick and easy to enter)!
You must follow my blog publicly via Google Friend Connect in order to be eligible to win any prizes!
The event will run from 5 Jan until 3 Feb (some of the giveaways may last past the end date but I will try to keep to the time table)!
Each day a new giveaway (or two) will be posted on the blog.
Each giveaway will run for 9 days!
You can win more than once. Yes, that's right, you can win on day one, day two, and then on day 15... there is no limit to how many prizes you can win. I will be checking winning entries thoroughly! Please play with integrity and do what you say you have done!
If you have any questions, please don't hesitate to contact me angela_heffner at yahoo dot com
Good luck and have fun!
~Mama of the Littles~